---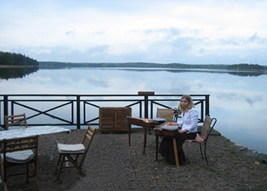 Welcome to Friends of Kantele-
and Kalevala!
Friends of Kantele- and Kalevala is a cultural association with the purpose of promoting and preserving the Finnish string instrument Kantele and Kantele music in Europe.
The association promotes also knowledge of the Finnish national epic Kalevala and folk culture. The association is open to anyone who is interested in traditional and modern culture found within the Nordic countries.
Become a member and support the preservation and development of Kantele Music! Read more about the benefits you get by becoming a supporting member of our Kantele NGO. The cost is 200 SEK per year, roughly 20 euro per year. (Family membership Fee 250 SEK, roughly 25 euro per year).

Welcome to join our friendly association!
Currents:
We continue to offer Kantele courses during summer in the following types of Kantele:
- 5-stringed Kantele
- 10- stringed Kantele
- 11-stringed Kantele
- 26 - 36 - stringed Kantele
- Concert Kantele with 36-39 strings

Please contact us for further information.

It is possible to borrow different sized instruments, if you do not have your own instruments.

We can recommend you combining attending the Kantele course in Stockholm with a few holiday days in the beautiful city. We are happy to help you with sorting out practical arrangements, like sightseeing programs, accommodation, excursions to the archipelago, tours in the Old Town and a lot more!
Listen to a melody for the 5-string Kantele and the Contrabass. Played by Helena Tuupanen and Tuomo Haapala. (Trad.)
Join our mailing list today and receive the latest news and information from Friends of Kantele and Kalevala! Write us on info@kantele.se and we'll send you the latest information.